I most definitely am. I spend an embarrassing amount of time on
foodgawker
, so imagine my delight when I discovered What I Ate Wednesday (WIAW) over at
peas and crayons
. The concept is very simple; write a post photographing what you ate on any given day. Then every Wednesday there is a "party" post on peas and crayons linking to everyone else's WIAW.
This appeals to me for a number of reasons:
1. Food porn,
2. Links to a bunch of really interesting blogs, and
3. The chance to be a food exhibitionist.
Anyway, without further ado I present my very first WIAW.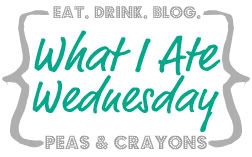 Frittata with potato, bacon, orange cherry tomatoes, and banana pepper. Coffee and water.
Breakfast:
Half a Mutsu apple. Also known as 'King' apple.
Lunch:
Sausage and Lentils with a Garlic Red Wine Sauce (A.K.A last night's dinner. Recipe avaialble
here
)
Snack:
Smoothie: Almond milk, greek yogurt, frozen strawberries, banana, honey, and spinach.
Dinner:
Red Wine Spaghetti (Recipe available
here
.)
After Dinner Refreshment:
At $2.50 for 4x16 ounces, how could I refuse. (Not my photo.)
So that was my (last) Wednesday: a boozy hump day celebration. What did you eat?