I've been cooking in a serious fashion for a little over a year now, and I have to say I've become pretty confident in the kitchen. Confident enough to substitute, improvise, and create. It really is amazing to have an idea and just run with it, to create something all your own.
This recipe is a greenhorn gourmande original, and while not incredibly inventive, it
is
insanely delicious.
With just a few simple ingredients and thirty or so minutes, you can have a delicious and luxurious meal.
Mushroom and Thyme Spaghetti
Ingredients
8 ounces crimini mushrooms, cleaned and thinly sliced
1 tbsp butter
1 tbsp olive oil
1 medium shallot, minced
1.5 cups low sodium chicken stock
5-8 sprigs fresh thyme, leaves only
2 tbsp sour cream
1 tbsp butter, softened
1 tbsp flour
salt and fresh ground pepper
8 ounces whole wheat spaghetti, cooked al dente
Directions
1. In a large frying pan combine the butter and olive oil over medium high heat. Once the oil is hot add the mushrooms and lightly season with salt and pepper. Cook the mushrooms over medium high heat, stirring occasionally, until most of their moisture is gone and they have darkened in color. Add the shallots and continue cooking until the shallots are softened and translucent.
2. Slowly add a little of the chicken stock to deglaze the pan, and then add the rest of the stock and thyme leaves. Turn the heat down to medium and add the sour cream, stirring to combine.
3. While sauce is cooking mix the softened butter with the flour to form a smooth paste. This is a beurre manié and it is going to make your sauce silky and rich. A little at a time (about 1/2 tsp) stir the beurre manié into the sauce, until it has reached your desired consistency. I ended up only using about half of mine. Season to taste with salt and pepper, and add your cooked spaghetti to the pan using tongs to thoroughly mix and coat the noodles. Garnish with more thyme if you wish.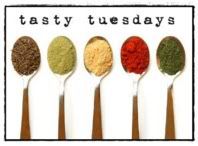 Thanks for stopping by fellow tasty tuesday-ers! If you're unfamiliar with tasty tuesdays be sure to check out
33 shades of green
to see what it's all about.