Hey y'all Happy WIAW!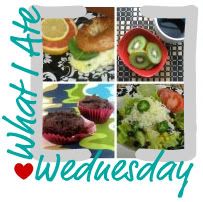 Seriously though, can we throw some love out to Jen over at
Peas and Crayons
for hosting this shindig?
This past Saturday/Sunday I had an awesome food weekend (as always). However, this weekend is different because I managed to take pictures of it all!!! I usually forget or am so hungry I say 'meh.'
I thought I should commemorate this glorious food documenting miracle by sharing all of my tasty footage.
Let the Feasting of the eyes begin!
Breakfast:
Frittata with Green Onion, Cherry Tomatoes, and White Cheddar
I normally make our frittatas with a bit of potato, a smidgen of bacon, and a heap of whatever veggies are left. Imagine waking up Saturday morning to discover- no potatoes! no bacon! Ohhh the humanity!!!
Luckily, I had a stroke of inspiration and fried up some leftover green onions and tomatoes in bacon grease (I always save mine, it's so good!), then I whipped up some eggs and stirred in a little shredded cheddar. A breakfast of champions was born.
I served it up with the last of my homemade bread, plenty of fresh coffee, and half a mutsu apple (not pictured, obviously).
Lunch:
Whole Wheat Baking Powder Biscuits with Dijon, Cherry Tomatoes, and White Cheddar.
Lunch was another impromptu affair. I had some biscuits left over from the previous day, so I split them open, gave them a smear of spicy Dijon, a sprinkling of cherry tomato bits, covered it in cheese and popped them under the broiler for a couple of minutes. Unbelievably tasty and simple. If you make the biscuits more elegantly than I did, I imagine this would make a great appetizer.
Dinner:
Steak Salad with Kale, Cherry Tomatoes, and Blue Cheese
This tasty treat was made with this beautiful specimen:
Porterhouse: King of Steaks
This beef cake (hah) was courtesy of my steady's mother, who from time to time takes pity on our impoverished souls and bestows us with gifts of meat. Glorious, glorious meat.
I marinated this beast in some balsamic, olive oil, and S&P. In the meantime I sauteed the kale with some garlic and red pepper flakes. I seared the steak for about a minute and a half on each side in a screaming hot pan. Tossed the steak with the kale, cheese, tomatoes and drizzled on the reduced marinade. Do it. Seriously. You can use a much cheaper steak and have equally tasty results.
Breakfast:
Popped Amaranth and Sauteed Baby Bok Choy
Bok choy for breakfast? I know it seems weird, but it is peculiarly satisfying first thing in the morning sauteed in a little sesame oil and sprinkling of salt.
Spicy Potatoes and Soybeans
Potato chunks simmered in a heavenly mix of addobo, sriracha, and curry powder. Throw in some edamame for an easy/tasty protein boost. An old standby of mine.
Dinner:
Braised Red Cabbage with Bacon
This simple hearty dish is deceptively complex and ridiculously good. Tastes even better the next day.
All in all it was a glorious weekend filled with cooking, eating, and general relaxation. If you'd like any of the recipes I haven't posted, just leave me a comment!