Happy WIAW everybody! As always thanks to the wonderful Jenn at
Peas and Crayons
for hosting this wonderful linkapalooza.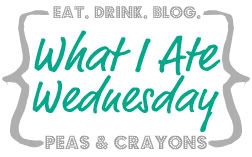 I've been gorging myself this holiday weekend (actually, it's kind of turned into a week long food fest), but unfortunately I didn't manage to snap many photos. So this week I'm keeping it short and sweet with some of the good eats I did manage to make/photograph/eat.
They are all crazy delicious recipes that you
have
to try. If you only make one, please let it be this:
Mashed Potatoes with Caramelized Red and Brown Onions
Seriously, I could not get over how amazing these potatoes are. I had about four cups of leftover mashed potatoes from Christmas dinner, which would have been pretty good on their own. However, I find that reheated mashed potatoes kind of loose their sparkle, and since I'm one who can't leave well enough alone, I had to jazz them up. It's so easy, and the results are insanely delicious. Imagine the savory, salty, oniony goodness with the creamy buttery potatoes. Make these. Right now.
Ingredients
3-4 cups mashed potatoes
1 medium brown onion
1 medium yellow onion
2 tbsp butter
1 tbsp olive oil
salt and pepper
fresh thyme
garlic powder
cayenne powder
Directions
1. Peel and cut your onions into half, then slice into thin rainbows, about 1/8 of an inch thick. In a large skillet melt butter and oil over medium high heat, when hot add the onions and stir to coat evenly.
2. Add salt, pepper, and cayenne to taste to the onions and let cook over medium high heat for about 15 minutes. Lower the heat and cook an additional 5-10 minutes until thoroughly caramelized. They will be pretty browned and very soft.
3. Add the thyme and garlic powder to taste. I used 3 sprigs and 1/2 tsp. Next add the potatoes and stir until thoroughly combined. Allow to cook until heated through.
Buffalo Chickpea Dip
As a lover of all things 'buffalo' I often find myself faced with the problem of delicious food that is absolutely horrible for me. For most people this is not an issue because the are sated with the occasional buffalo product at a party or potluck. I however have to get my fix on a more regular basis. If you find yourself in the buffalo crazed crowd, then by golly you should give me a medal.... or at least try this spread.
Ingredients:
2 cups cooked chickpeas
1/3 cup melted butter
2 tbsp blue cheese crumbles
7-8 tbsp Franks' Red Hot
Directions:
1. In a small sauce pan melt the butter and add the blue cheese and hot sauce. Stir to combine.
2. In a food processor combine chickpeas and butter mixture. Puree until smooth and creamy. Add additional hot sauce if desired, and serve with celery sticks, tortilla chips, etc.
This dip tastes exactly like buffalo chicken dip (a.k.a crack-cocaine of the culinary world), with the smooth creamy texture of a fine hummus. Give this a try, you won't regret it.
And this boys and girls is where I must end my post. I've been a bad photographer this week, but I pledge that next year (only a few more days!!) I will make a more valiant effort to document my culinary exploits.
Have a fantastic New Years!