Today's WIAW is brought to you by squash (more specifically acorn and pumpkin), actually pumpkin might be a gourd (I'm no botanist), but 'gourd it to me' just doesn't have the same ring to it.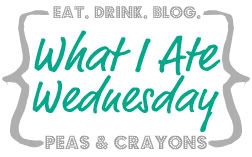 Anyway, apologies for being a bum and not posting. My rhythm got thrown off during Thanksgiving, and I've been struggling to climb out of my pit of laziness ever since. I assure you though I have been cooking! and eating! and I will post all of the back-logged recipes!
For now though you will have to satisfy yourself with some squash-core food porn.
Breakfast:
Baked Pumpkin Oatmeal with half a Mutsu Apple
So I bought a sugar pumpkin. A very LARGE sugar pumpkin. This has resulted in approximately ten cups of puree, half of which I've bagged and tagged (stashed in the freezer) and the other half which I have been trying to use up all week. This has resulted in some very tasty creations, including this tasty breakfast bite.
All you need is 3/4 cup pumpkin puree, 3/4 cup milk (I used almond), 1.5 cups old fashioned oats, 2 tbsp brown sugar, 1 tbsp melted butter, 1/2 tsp vanilla, 1 tsp cinnamon, 1/2 tsp allspice and 1/2 tsp salt. Mix it all together and bake at 375F for 10 minutes. Voila a seemingly indulgent breakfast in minutes.
Lunch:
Half an Acorn Squash with a Sausage, Quinoa, and Kale stuffing.
I'd been seeing a lot of stuffed 'corns on the old Foodgawker, so I figured I'd give it a try. Let me tell you, this is delicious. If you're tired of the old acorn with maple and brown sugar routine, give this a try. Just bake the squash as you normally would (cut in half, cleaned, with a 1/2 tbsp of butter and salt at 400 for about an hour) and then stuff it with whatever your heart desires. Top with a little grated cheese and bake for another 10-15. Trust, you will not regret this squash.
Dinner:
Pumpkin Gnocchi with Butter and Sage
This was actually my second attempt at this recipe. The first time it was more or less Pumpkin oddly dense dumplings, but this time they turned out just right. It was all a matter of adjusting the flour content. Strangely enough more flour= less dense. For me anyway. Also sage crisped in butter is probably the best thing on Earth. Ever. Seriously.
If you want to get your nom on simply beat 1 egg and add 1 cup (8 ounces) pumpkin puree, 3/4 tsp kosher salt, and approximately 1.25 cups of flour. I mixed mine in a little at a time, and ended up using closer to 1.5 cups. The dough will be soft and a bit sticky, so flour your board and hands well. Break dough into fourths and roll each fourth into a long snake about 1/2 an inch in diameter. Cut into 1/2 inch pieces and plop into boiling water until they float to the surface. This makes a lot so you may have to boil in batches. It's okay though, it goes quickly. Transfer cooked gnocchi to a paper towel lined plate. Once all gnocchi are cooked toss in frying pan with about 3 tbsp of butter and a large hand full of chopped sage. Cook 3-4 minutes until sage is crisp.
Late Night Snack:
The elusive PBR 40 and a bag of Wise Jalapeno Kettle Chips.
Me and my steady know have a good time. Ran over to the local bodega and scored a 40 ounce and two snack sized bags of chips for $3.75. It was really sad how excited we got over the price of the 40. The beau exclaimed "wow $2.75 for a 40 and it's not even crap!" Yes ladies and gents, you know you're pathetically broke when you refer to PBR as the 'good' beer. Trust- there are far worse options out there.
Anyway we had a blast watching possibly the weirdest comedy ever: "What's New Pussycat," Woody Allen's acting/screenplay writing debut. Seriously if you watch this movie I guarantee you'll just be like "umm.... okay....".
Enjoy!