Evening/morning/afternoon ladies and gents. I apologise for being a bum and not posting any recipes. I promise! This weekend!
Welcome to WIAW: Burned out Edition!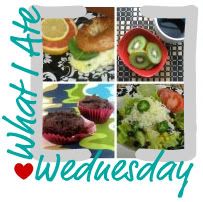 As always, thanks to the lovely Jen at peas and crayons for hosting this shin dig.
I've had a hell of a week since last Wednesday. I've been temping as a personal assistant this week, and lets just say the first day didn't go to well. (I spilled coffee in the boss man's lap! I didn't realise this was possible outside the parameters of some beta-lady chick flick.)
Thankfully it's gone a bit better since then (no spills!), but by the time I get home I'm pooped and just want to stuff my face and watch a Frasier. Scrambled eggs all over my face, what is a girl to do?
So that brings me to my next point of mediocrity/laziness. The meals which you are about to witness did not all happen in the same day. To be quite honest I'm not sure where or when these bad boys happened, but I do remember that they were all extremely tasty....
I don't know if it's 'legit' to assign a meal name to these pictures, but I will anyway. What can I say, I like living on the edge.
Breakfast:
Baked Potato Wedges with Scrambled Eggs
We're going to call this one breakfast because there are scrambled eggs involved (although I'm pretty sure this was a lunch). Those tasty treats to the left are oven baked potato wedges. Trust son, you want those in your mouth like right now.
Just preheat your oven to 400F, cut your spuds (russet or yukon) into wedges, plop them in a plastic bag with about 1tbsp olive oil, garlic powder, paprika, parsley, s&p, and cayenne (all to taste). Give them a nice massage until well coated, place on a lined baking sheet and bake 30-35 minutes flipping twice in 10 min intervals (i.e after the first 10 mins, then after the first 20). Let them cool a bit (or scald your mouth like I did) and enjoy.
Lunch:
Pumpkin, Cauliflower, and Goat cheese Baked Penne with Sage and Bacon
A.K.A. the best Mac and Cheese EVER. This one was soooooo good. I'm glad I made like 12 billion servings of it; I nommed this masterpiece all week.
Dinner:
Curried Carrot Soup.
So simple and so delicious. Literally only carrots, an onion, chicken stock, curry powder and s&p. It's full of curry flavor with a sweet heat and creamy texture. I swear on my honor, hope to die, stick a needle in my eye, I will post this recipe. It's too good not to share Not to mention ridiculously easy. A soup that comes together in about 30 minutes? J'adore!
How were your Wednesdays/weeks? Any Frasier fans out there? What do you turn on when you want your brain to turn off?