Hello everyone!!! Welcome to my first Crazy Cooking Challenge hosted by Tina at
mom's crazy cooking
.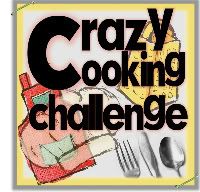 This month's challenge was chicken noodle soup. While a very appropriate choice for January, I must admit I was a little dissapointed. To be quite honest I find chicken noodle soup to be a bit boring. That is until I found
this recipe
at inquiring chef. Thai chicken noodle soup! Now that's something I can get behind. I absolutely adore the spicy, complex flavors of Thai food, both of which are found in this dish.
Recipe after the jump!
Not only is this soup ridiculously tasty, it is a breeze to make. I had to adapt the recipe that I found based on what I could find/afford, but I'm sure either version will have you smiling in no time.
Ingredients
For Soup
1 tbsp canola oil
1 small brown onion, sliced into 1/8 inch rainbows
2 jalapeno peppers, small diced (you can seed them if you like)
2 cloves of garlic, minced
1 tsp curry powder (I used madras curry powder)
1/2 tsp tumeric
2 carrots, sliced into 1/4 inch coins
7 cups chicken stock
1 can light coconut milk
3 tbsp soy sauce
5 tbsp peanut butter
1.5-2 lbs shredded chicken (I used the leftovers from a roasted chicken)
1 tsp sugar
1 tsp onion powder
1 tsp red pepper flakes (optional)
salt to taste
3 green onions, chopped for garnish
For Noodles
1 brick of raman instant noodles per 2 servings (noodles only)
Directions
1. In a large pot heat oil and add the onions and peppers. Let cook 4-5 mins. until softened and then add garlic. Cook 1 minute and add the curry and tumeric. Stir to combine and add the chicken stock and carrots. Bring to a boil and then reduce to a simmer.
2. When broth is back to a simmer add the coconut milk, soy sauce, peanut butter, and chicken. Stir to combine and add the sugar, onion powder, and red pepper flakes.
3. Let simmer without a lid for 30-40 minutes until soup has thickened to desired consistency. Salt to taste.
4. In a small pot boil water and cook noodles until soft, but not thouroughly cooked. Divide noodles into bowls and ladel over soup. Garnish with green onions.
While some may find the use of ramen instant noodles objectionable, I have to say that they work really well in this soup. The original recipe called for vermicelli or other thin noodles, and these were the closest thing I could find.
As you can imagine, with 7 cups of broth, I ended up with far more soup than noodles. I think that later this week I'll repurpouse the leftover soup by adding some potatoes and reducing the liquid further. Voila! A curry is born. It's really not hard to imagine, since I'd liken this soup to a more liquid massaman curry (a.k.a the best curry EVER.)
At any rate I hope I've inspired you to spice up your chicken noodle soup. I'm sure glad I did!