Happy first WIAW of 2012!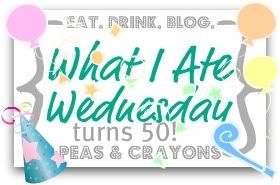 Thanks for being an awesome hostess
Jenn
!
This year I've hit the ground running, and I'm already making headway into my
resolutions
blogolutions. This year I'm going to try and post more frequently (posted
yesterday
), and really tighten up the focus of my blog. I've also already added a recipes page!!! Check <<
it
>> out! I'm amazed at how many recipes I've managed to post in the three months since I've started writing this blog.
Alright, enough blatant self promotion. Let's get on with the eats!
Breakfast:
Greek Yogurt with Honey and Sunflower Seeds
It was accompanied by several cups of coffee and a delicious Bartlett Pear. Also, that is an elephant lurking in the background. He lives on my window sill, and I believe is a Colonel or Major. I forget which.
Lunch:
Whole Wheat Penne with Creamy Artichoke Spinach Sauce
I still had some amazing
artichoke dip
left over from my New Years Eve celebration, so I Macgyvered myself a pasta sauce using the leftover dip, milk, frozen spinach, and a pinch of duck tape. Needless to say, it was delicious.
Dinner:
Dinner started off with a rather boring salad (romaine and cherry tomatoes). Although I do have to say the homemade dressing kicked it up a notch or two.
Balsamic Dijon Dressing
Ingredients
4 parts Balsamic vinegar
3 parts extra virgin olive oil
2 parts good Dijon mustard
salt and pepper to taste
Directions
Mix all ingredients until fully emulsified.
The main course was delicious- if not a little bit... uhmmm... ugly?
Red Lentils with Rice
What this dish lacks in visual appeal, it makes up for in tastiness and ease of preparation. Onions and jalapenos are sauteed with Garam Masala and then cooked with chicken broth and rice and lentils. It's a spicy, deep flavored, one pot wonder.
Slightly adapted from Mark Bittman:
Ingredients
2 tbsp canola oil
1 medium yellow onion, small diced
2 jalapeno peppers, seeded and diced
1 tbsp Garam Masala Powder
1 cup rice
3/4 cup red lentils, rinsed and picked over
3 cups chicken stock, vegetable stock, or water
3/4-1 tsp salt
pepper to taste
2 tbsp butter (optional, but highly recommended)
Directions
1. Heat the oil over medium high heat in a medium sized pot that has a tight fitting lid. Add the onions and jalapenos and cook until onions are translucent and slightly browned. Add the garam masala and let cook another minute.
2. Add the broth and bring to a boil. Once liquid is boiling add the rice and lentils, and bring to a boil again. Let simmer, covered, over low heat for another 20 minutes.
3. The lentils and rice should be fully cooked. Add the salt, pepper, and butter to taste.
Snack:
Strawberry Banana "Ice-cream"
This is one of my favorite late night snacks. Just puree a frozen banana and some frozen strawberries, peanut butter, etc. with a little bit of milk/ non-dairy milk and you've got a tasty treat!
All in all I had a day of tasty, if not earth shatteringly brilliant, eats. A solid way to start this year's WIAW. Wishing good eats all year long!