Happy WIAW everyone!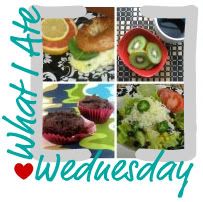 Don't forget to head on over to peas and crayons to see what Jenn is up to.
Apologies for the corny title, but as you know (if you've read any of my post titles) I just can't resist stupid word play.
Anyway, it was a bowl full day- I ate every meal from a bowl! Intrigued? Probably not, but read on to see the eats!!
Breakfast:
Old Fashioned Oatmeal with Natural Peanut Butter and Brown Sugar
So I've jumped on the nut butter in oatmeal bandwagon. After eyeing all of the delicious oats in a jar posts (but never remembering to save an almost empty jar) I decided to just put it in my oatmeal. I'm so glad I did! It made my oatmeal so creamy and voluptuous, not to mention more filling. This humble bowl of oats kept me going 'till lunch time (1pm!).
Lunch:
Red Lentil and Chickpea Stew with Brown Basmati
This mass of orange deliciousness was my dinner the night before. Born of the necessity of nearly empty cabinets, this simple meal is redolent of Indian spices.
I will post the recipe tomorrow
. The
<<recipe>>
is posted! Do not miss.
Dinner:
Bacon and Spinach Cheddar Quinoa
An oldie but a goodie. I seriously am in love with quinoa. Although when we first met I was not impressed (sugar free blueberry quinoa pudding. blech), I've come to realize how glorious this simple grain is. If you haven't tried quinoa before, I really suggest you do. It's ability to absorb flavor and satisfying texture really make it a pantry staple.
Recipe
Ingredients
1 cup quinoa, rinsed
2 cups chicken stock ( I used homemade!)
8 ounces frozen spinach
2 tbsp butter
5 slices of bacon, cooked and chopped
1/3 cup cheddar cheese, grated
salt and pepper to taste
1. Place quinoa and chicken stock (or vegetable if you swing that way) in a small pot and bring to a boil. Continue to boil until most of the liquid has been absorbed/evaporated. You will know when bubbles start to burst on the surface of the quinoa. Cover, turn to low, and let cook another 15 minutes.
2. To the cooked quinoa add in the spinach. You can tell quinoa is cooked when it's white 'tail' is visible. Next stir in the butter. Once thoroughly melted add the bacon and cheese, and stir to combine. Salt and pepper to taste.
I eat this meal, literally all the time. Breakfast, lunch, or dinner- it really works them all. Try it with a poached egg for a heartier meal, or pair it with some fruit for an easy any-time meal.
Thus ends my bowl-ti-ful day. I hope your Wednesday is just as beautiful.