Teh kitteh wishes you a happy WIAW. Also, wants you to stay away from it's lentils.
Sadly, my cat doesn't actually eat lentils. Even more sadly, my cat isn't really mine anymore (she lives with my mom *sad face*).
If you hadn't guessed it, I had lentils this lovely Wednesday (i.e. Tuesday), delicious, delicious, Parmesan and Fire Roasted Tomato Lentils. Read on for the recipe and to see teh eats!
Breakfast:
Old Fashioned Oatmeal with Maple Syrup, Brown Sugar, and Pecans
Upon discovering a few weeks ago that peanut butter makes oatmeal so much more satisfying, I decided I'd experiment with some other nuts. The pecans had a delightful crunch and helped keep me full until lunch. The oatmeal was accompanied by an invisible cup of coffee.
Lunch:
Thai Chicken Noodle and Rice Soup
This beauty was resurrected from the freezer. I had so much extra soup left from my Crazy Cooking Challenge, but unfotunately had run out of noodles. I swapped them out for some short grain rice, and was pleasantly surprised. If you're interested in this spicy, luscious, and souper tasty soup (see what I did there?), then clicky
<<here>>
for the recipe. Lunch was paired with another cup of coffee, a pear, and a tangerine.
Dinner:
Parmesan and Fire Roasted Tomato Lentils
These are soooo good!!! I've made these before, and I know I will make these again. This recipe calls for French (de Puy) lentils which hold their shape better than most, and have a delightful bite and nuttiness to them. The toe of green you see in the bottom right is this lovely number:


Flash Cooked Collards ala Mark Bittman
Although these emerald strips will never replace my one true love (kale), they are extremely tasty. I julienned them into strips and quickly sauteed them in some oil, and then finished them with a squeeze of lemon and a dash of s&p. Delicious.



I rounded off my day by eating two small school children:
Petit Écolier!!
Kitteh approves of the nomming of small children. She doesn't need to know they were made out of chocolate.
Kitteh would like to thank Jenn at
peas and crayons
for hosting teh foodz partay.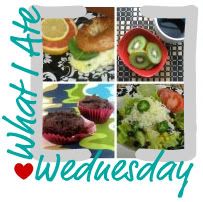 Thanks for sticking around for the whole post! You shall be rewarded greatly with the aforementioned recipe! (Also, forgive me for the gratuitous use of kitteh/lol cat speak... it's been a tough Tuesday.)
Parmesan and Fire Roasted Tomato Lentils
Adapted from

Bitchin' Camero
Ingredients
2 tsp oil (I used bacon grease)
1/2 large red onion, diced
3 cloves garlic, minced
about 1lb French lentils
4.5 cups low sodium chicken stock
1 can diced fire-roasted tomatoes
1 tbsp chili powder
juice of 1/2 a lemon
1 tsp balsamic vinegar
3 strips of bacon, cooked and chopped
3 sprigs of fresh thyme, leaves only
salt, to taste (I used about 1.5 tsp)
freshly grated parmesan cheese, to taste
Directions
1. In a large pot or dutch oven heat you oil over medium heat. When hot add the onions and cook until softened and beginning to brown. Then add the garlic and cook until slightly browned and fragrant.
2. Deglaze the pan with a little of the chicken stock and a wooden spoon. Add the rest of the chicken stock, tomatoes, and lentils. Bring to a boil and then cover and reduce to a simmer for 25 minutes.
3. Next add the chili powder, lemon juice, vinegar, thyme, bacon, and 1 tsp of salt. Let cook an additional five minutes, and then season to taste. Serve sprinkled with parmesan.