Hey kids, I've just heard about another awesome blog party. Tasty Tuesday! I knew I had to join, it shares the moniker of the wonderful day when restaurants would come and sell stuff in my college's student center. ( I still miss those fucking empanadas.) Anyway, as far as I can see this party is the celebration of tasty recipes, and boy have I got some for you today.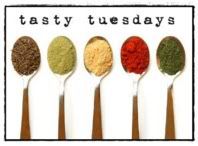 WARNING: Shameless use of bacon. Not for the pork intolerant/faint of heart.
Seriously though, bacon has to be one of the best foods out there. While I know I am certainly not the first to rhapsodise the glories of the salty, crispy, food of the gods- I simply can't help myself.
I find that bacon just sneaks up on me. I don't
try
to use bacon in seemingly every savory dish I produce, it merely happens this way.
At any rate, bacon has found it's way into the last three dinners I've made. While the quantities may be small, the flavor impact is huge.
Let it begin:
Roasted Cauliflower with Pumpkin Sage Goat Cheese Sauce
Do not be deceived by my sub-par photography skills! This dish is CRAZY DELICIOUS. The roasted cauliflower has a beautiful nuttiness, and the pumpkin sauce is way to velvety to be mostly vegetable. Not to mention the chewy, salty, smoky bites of bacon running through out. I will definitely be making this again, next time though I think I'll throw some penne into the mix for a baked pasta style dish. Recipe is adapted from
here.
1/2 a small pumpkin (sugar pumpkin is ideal)

1 head of cauliflower

olive oil

4 strips of bacon

3 tbsp butter

2.5 ounces goat cheese

large handful sage leaves

1 cup milk (any kind, I used almond)

2 tbsp sour cream

1/3 cup mozzarella

garlic powder (abt. 1 tbsp, to taste)

salt and pepper to taste
1. Preheat the oven to 350F. Cut the pumpkin in half (this can be quite difficult/dangerous, I recommend using a small knife making small precise cuts) and scoop out the seeds and fibrous bits. Place pumpkin halves cut side down on a foil lined baking sheet or dish. Break the cauliflower into florets, drizzle with olive oil, lightly salt and pepper, and place on a foil lined baking sheet. Place in the oven and bake cauliflower for approximately 30-40 minutes until beginning to brown around the edges, and the pumpkin approx. 40-70 mins until the flesh (not the skin) is easily pierced with a knife.
2. Cook the bacon. (Save the grease for later!)
3. In the meantime melt the butter in a small sauce pan over medium low heat. Add the sage and brown a bit, about 2-3 mins. Once the butter is a little browned add the milk, cheese, and sour cream and whisk to a smooth consistency. Add garlic powder to taste.
4. Once the cauliflower is out of the oven, transfer to a medium sized baking dish and set aside. When pumpkin is out of the oven, scoop flesh from one half and add to the cheese sauce. Whisk until smooth, and salt and pepper to taste.
5. Pour the pumpkin cheese sauce over the cauliflower and mix in with the crumbled strips of bacon. Sprinkle lightly with mozzarella and bake another 10-15 minutes. Serves 5.
French Lentils with Tomatoes, Bacon, and Parmesan
I
recently
discovered the pleasures of French lentils. Unlike their red and green cousins, French lentils tend to keep their shape and have a much firmer bite. These lentils have such complex depth of flavor, they are simply addictive. This recipe is one I'd been holding onto for a while, and is adapted from
here.
3 slices of bacon

1/2 large red onion, diced

3 cloves garlic, minced

.8 lbs French Lentils

4 1/2 cups water

1 vegetable bouillon cube

1 can (15 ounce) diced fire-roasted tomatoes

salt to taste

1 handful fresh thyme sprigs

juice of 1 lemon

2 tsp. bacon grease

1 oz. Parmesan cheese for dusting
Directions
1. Cook the bacon. I like to do mine in the toaster oven. (400F for 12mins). Reserve the grease and set aside.
2. In a large dutch oven add about 2 tsp of the bacon grease and cook the onions until slightly browned. Add the garlic and cook for another minute or two.
3. Add the water (be sure to scrape the bottom of the pan), bouillon cube, tomatoes, lentils, and crumbled bacon. Bring to a boil and then cover and simmer for about 20-25 minutes until the lentils are cooked.
4. Stir in the lemon juice, thyme leaves, and salt and pepper. Cook for another 5-10 minutes.
5. Salt and pepper to taste, serve with freshly grated parmesan.
This my friends is a greenhorn gourmande original! It's origins are a sad Friday night when the fridge was quite barren. But lo and behold a miracle was made! This ridiculously easy one pot wonder comes together in under thirty minutes. By far one of my favorite applications for kale.
3 slices of bacon

1 tbsp bacon grease

1 medium yellow onion, diced

2 medium yellow/ yukon gold potatoes, in 1/2 inch cubes

large bunch of kale, cleaned, trimmed, and chopped (about 6 cups)

low sodium chicken stock (about 1 cup)

blue cheese crumbles (about 2-3 tbsp)

salt and pepper to taste
Directions
1. In a large pot or dutch oven heat about half of your bacon grease. Add the diced onion and cook over medium heat until softened, about 7 mins. In the meantime begin cooking your bacon. (Alternatively, if you don't already have the grease, cook the bacon first. I do it this way because it's faster.)
2. Add the rest of the bacon grease and the potatoes to the pot. Mix thoroughly and cook for about 3-4 minutes, or until the potatoes begin to stick to the pan. Add enough chicken broth to coat the bottom of the pan by about 1/2 an inch. Be sure to scrape the brown bits off the bottom of the pot. Cover and cook about 15 minutes, or until the potato is soft and cooked through.
3. Add the kale and about another 1/2 inch of stock to the pot; cover and cook for another 4-5 minutes until kale has wilted.
4. Add in the crumbled bacon and blue cheese, stirring until everything is well combined and the cheese has thoroughly melted. Salt and pepper to taste.
Serves 2 very hungry people.
So group confession time. Do you find yourself sneaking bacon into lots of dishes?