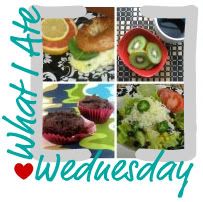 Breakfast:
Pumpkin Banana Bread with Natural Peanut Butter. Recipe [here]
Accompanied by 2 cups of coffee and 2 mandarin oranges.
Lunch:
Dal Makhani with Basmati Rice and Kohlrabi Salad. Recipes coming soon!
Accompanied by tons of water and a pear.
Snack:
Whole Wheat Apple and Oat Muffin. Recipe coming soon!
Dinner:
Whole Wheat Spaghetti with Bacon and Thyme Marinara and Blanched Kohlrabi Greens.
More water!
Overall today was pretty delicious, albeit a bit carb heavy. I'll try and post the recipes within the next couple of days. I'm also working on a post about how I manage to feed myself in the most expensive city in the country (New York) on about $30 a week. You've seen what I eat, now see how I make it happen! If you're interested, that post should be up sometime before next week.
As always thanks to the lovely Jen for hosting WIAW.
And a happy hump day to all!!!!