Happy Tasty Tuesday everyone! Be sure to stop by and say thanks to Alissa at
33 shades of green
for hosting this awesome blog party.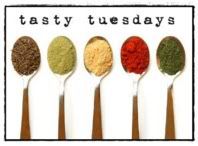 I've got two new greenhorn gourmande original recipes for you to sink your teeth into. More after the jump!
This Pizza is one I featured in my
WIAW
post two weeks ago. Believe me, it was warranted to make it two weeks in a row. At any rate this is a pie you should feel good about eating, it's tasty and packed with vegetables.
Roasted Butternut Squash and Goat Cheese Pizza
Trust me, this pizza is far tastier than this photo implies.
Ingredients
1/2 a butternut squash
olive oil
1 red onion
1 tbsp tomato paste
1/2 tsp fresh thyme
1 pre-made pizza dough (I used Trader Joe's Herb and Garlic)
1/3 cup mozzarella cheese, shredded
2 ounces goat cheese, crumbled
a small handful of fresh sage leaves
salt and pepper
Directions
1. Preheat your oven to 400F. Peel and seed your butternut squash. Chop the squash into 1/2 inch cubes and toss to coat with about a tbsp of olive oil. Spread out on a foil lined baking sheet and sprinkle with salt and pepper, tossing to coat evenly. Put the squash in the oven and bake for about 30 minutes, until the squash is tender and beginning to brown around the edges.
2. In the meantime peel and slice your onions into very thin half circles (about 1/8 of an inch thick). Heat another tbsp of olive oil in a skillet over medium heat and add your onions. The goal here is to soften and caramelize, which will take about 15-20 minutes. As onions are cooking, season with salt and pepper. Once onions are caramelized add the tomato paste and thyme and stir to combine. Salt and pepper to taste.
3. Roll out your dough as instructed. Next spread the onion mixture in a thin layer all over the pie, leaving a half inch or so of 'crust' if desired. Then distribute the squash cubes evenly over the entire pie. Sprinkle on the mozzarella and then crumble on the goat cheese. Finish by scattering the sage over the top of the pie.
4.Bake the dough as per instructions.
Serves 4.
The sweetness of the squash and onions is deliciously counterbalanced by the tangy creaminess of the goat cheese. And please, do not skip the sage leaves! They really tie the whole pie together.
Next up we have:
Amaranth and Spinach Porridge
What is amaranth exactly? Amaranth is a seed related to quinoa that is full of protein and other nutrients. Like quinoa, it is gluten free and safe for those with gluten sensitivities. The seeds themselves are much smaller than those of quinoa, comprable to the poppy seed in stature. The taste is more intense than quinoa, with an earthy bite.
Honestly I prefer quinoa in this application, but at the time I was out so I substituted amaranth. It was still good, but I found the earthiness accentuated by the spinach to be a bit much for my taste. At any rate this recipe is exactly the same for quinoa, so use which ever you prefer.
Ingredients
1/2 cup amaranth (or quinoa)
1 cup stock (chicken, vegetable, etc.)
1 jalapeno pepper, sliced into 1/2 inch chunks
4 ounces frozen spinach
2 tbsp butter
1/4 cup shredded mozzarella cheese
salt and pepper to taste
Directions
1. Give amaranth (or quinoa) a quick rinse until the water runs clear. Add to a small pot with the cup of stock and the sliced jalapeno.
2. Bring mix to a boil, and continue boiling until most of the liquid has been absorbed. Turn the heat to low, cover and cook another 15-20 minutes.
3. Once the grain is cooked ( you should be able to see a small 'tail' on each grain) remove the sliced jalapeno. Add the butter and spinach and stir until fully incorporated. Stir in the mozzarella and serve topped with a poached egg if desired.
Serves 2.
This is what it looks like with the egg stirred in. This breakfast (or lunch, or dinner) will leave you feeling satisfied and full for hours.