Happy hump day everybody!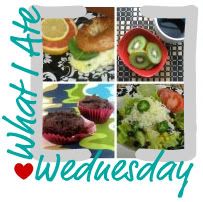 This WIAW was brought to you by the letter T- for Tuesday. Yesterday was a pretty good food day. I managed to have bacon in two out of three meals (the remnants from my
baconocalypse
), and I ended the day with freshly baked cookies. What could beat that?
For those of you not in the know, WIAW stands for What I Ate Wednesday, a blog party hosted by Jen over at
Peas and Crayons
. Basically you post the pictures and descriptions of what you ate during any given day.
Anyway, here we go!
Breakfast:
Pumpkin Banana Bread
topped with fat free Greek yogurt. Served with black coffee and 2 mandarins (not pictured).
This bread is SUPER tasty. I adjusted the ratio of banana to pumpkin this time around, and it's really more of a banana pumpkin bread. The Greek yogurt just ups the creaminess factor and adds a little tang.
Lunch:
These lentils are fantastic! If you like red and green, you should definitely give puy a try. Hell, even if you don't normally like lentils, you should still give these a try.
Dinner:
Bacon Potato Kale Pot
. A simple and incredibly flavorful dish- it makes the rounds about once every two weeks. If you love potatoes, you will love this dish.
Dessert:
Andes Mint Chip Cookie.
My boyfriend is OBSESSED with Andes Mints. So, as a nice little treat I decided to make him some Andes Mint cookies (which lets be honest, were for me as well). I pretty much followed the recipe on the back of the bag of Andes Mint Pieces, but I made a half batch. I figured I would post the recipe just to entice you further (though presumably you would have the recipe if you were in possession of the needed mint pieces).
Makes about 24 cookies
Ingredients
5 ounces Andes Mint Pieces
1/4 cup butter, room temperature
1/2 cup brown sugar, NOT tightly packed
1/4 cup granulated sugar
1/2 tsp baking powder
1/2 tsp baking soda
1 tsp vanilla extract
1 egg
1and 1/3 cup flour (I used 1 cup AP and 1/3 whole wheat)
1. Cream together butter and sugar until thoroughly combined. Mix in baking powder, soda, and vanilla extract. Add egg and beat until thoroughly combined. Mix in the mint pieces.
2. Mix in flour until dough is thoroughly combined. I found it easiest to mix with my hands to fully incorporate the flour. Place in the freezer for about 30 minutes.
3. Preheat the oven to 350F. Take the dough out of the freezer and cut into desired amount of cookies, roll into balls, and place on a parchment lined baking sheet. Bake for 10-12mins and allow to cool on sheet 2 mins before removing.
I'm not certain if the freezing is a crucial step (prevents the chips from melting entirely?), but I did find that it was much easier to control the portion of dough that went into each cookie, so I probably will use this technique in the future.
Have you ever used recipes on the back of packages with any success?
If you are familiar with Foodgawker and Tastespotting, you should get to know
e-recipecards
. It is a site very similar to Foodgawker et al, however they take almost any ones submissions! If you've tried to submit your work to Foodgawker or Tastespotting only to be shot down, you should really give e-recipes a try.